HB 68, a ban on ALL gender-affirming care for kids is moving through the Ohio Senate. To save these children from BEING FORCED TO SEVER THEIR DOCTOR-PATIENT RELATIONSHIPS and detransition or move out of Ohio, PLEASE DONATE NOW.
TransOhio, our lead organization, is a trans-led, statewide 501c3 organization and needs funding to counter rampant misinformation surrounding gender-affirming care and other efforts to erase trans people from public life in Ohio. PLEASE BE GENEROUS. THANK YOU.
NOV 28
9 AM - 5 PM: Ladies Gallery
NOV 29
9 aM - NOON: Ladies Gallery
DEC 6
8 aM - 5 PM: george Washington Williams Room
*All Gender Restroom is on the GROUND FLOOR across from the Gift Shop. If our care room is open, we will escort you if you like! Please contact us if you have concerns about your comfort, accessibility, or safety.
transalliesofohio@gmail.com
NOVEMBER 28, 2023 (Tuesday) @ 2 PM
HB 68: Gender-affirming Care Ban and Sports Ban Combined in ONE bill

PROPONENT TESTIMONY HEARING (People who support HB 68 will give testimony at this hearing.)

Ohio Statehouse – Senate North Hearing Room

Gender Affirming Care Ban:
HB 68 is a FULL BAN on gender affirming care for minors, including referral to out-of-state care.
Ban applies to puberty blockers, hormone treatment, and surgeries. (Surgeries are not performed on minors in Ohio). Even psychiatric and psychological support for gender dysphoria is banned unless both parents agree to allow treatment.
This ban has no grandfather clause, meaning all youth receiving treatment in Ohio from our world-class pediatric hospitals will be forced to detransition or move out of state.
SPORTS BAN:
This bill also bans transgender students from participating on school sports teams from kindergarten through university athletics for fear that Ohio's "little girls" will miss out on athletic awards and scholarships.
There are a handful of transgender athletes competing in middle school and high school athletics. These kids must be cleared by their doctors and the Ohio High School Athletic Association to play after providing extensive medical documentation that they do not possess an unfair advantage or pose a safety risk.
OHSSA's policy has been in place for over a decade and there have been zero complaints.
PLEASE NOTE:
This hearing is open to the public, but

we will not have an opportunity to speak

We recommend allies and community members consider carefully whether or not to attend this hearing because of the harmful things that will be said, emotional toll, and available PTO. We will need people to testify at a future Opponent Hearing.
Trans Allies of Ohio will be at the HB 68 Hearing on November 28 so you don't have to be there.
If you do decide to attend, 0ur Community Care Room will be open in the Ladies Gallery beginning 1 hour before the hearing. Please see the above download "How to Visit the Statehouse" for a map showing the location of the Ladies Gallery and parking options.
NOVEMBER 20 - December 1, 2023
Our conservative GOP lawmakers talked nonstop about how sacred Parental Rights are during the run up to ISSUE 1. We think it's time to call 'em up and say "thank you."
*Call or email your Ohio Senator, and the members of the Senate Government Oversight Committee to thank them for standing up for the liberty and freedom of every Ohio parent to make healthcare decisions for their children.
*Remind them that HB 68 strips away those Parental Rights.
*Tell them you are thankful for your trans loved one, neighbor, community, or yourself and why.
Don't be shy! They love to hear from citizens whose liberty and freedom they passionately defend.
PLEASE BEGIN MAKING CALLS ON 11/22/23.

Tell these influential Senators the importance of Voting NO on HB68. Transgender Youth deserve to keep the safe and effective gender affirming healthcare they are currently receiving.
Sen. Theresa Gavarone (02 R)
614-466-8060
Gavarone@ohiosenate.gov

Sen. George Lang (04 R)
614-466-8072
Lang@ohiosenate.gov

Sen. Lou Blessing (08 R)
614-466-8068
Blessing@ohiosenate.gov

Sen. Stephanie Kunze (16 R)
614-466-5981
Kunze@ohiosenate.gov

Sen. Kirk Schuring (29 R)
614-466-0626
Schuring@ohiosenate.gov

Sen. Michael Rulli (33 R)
614-466-8285
Rulli@ohiosenate.gov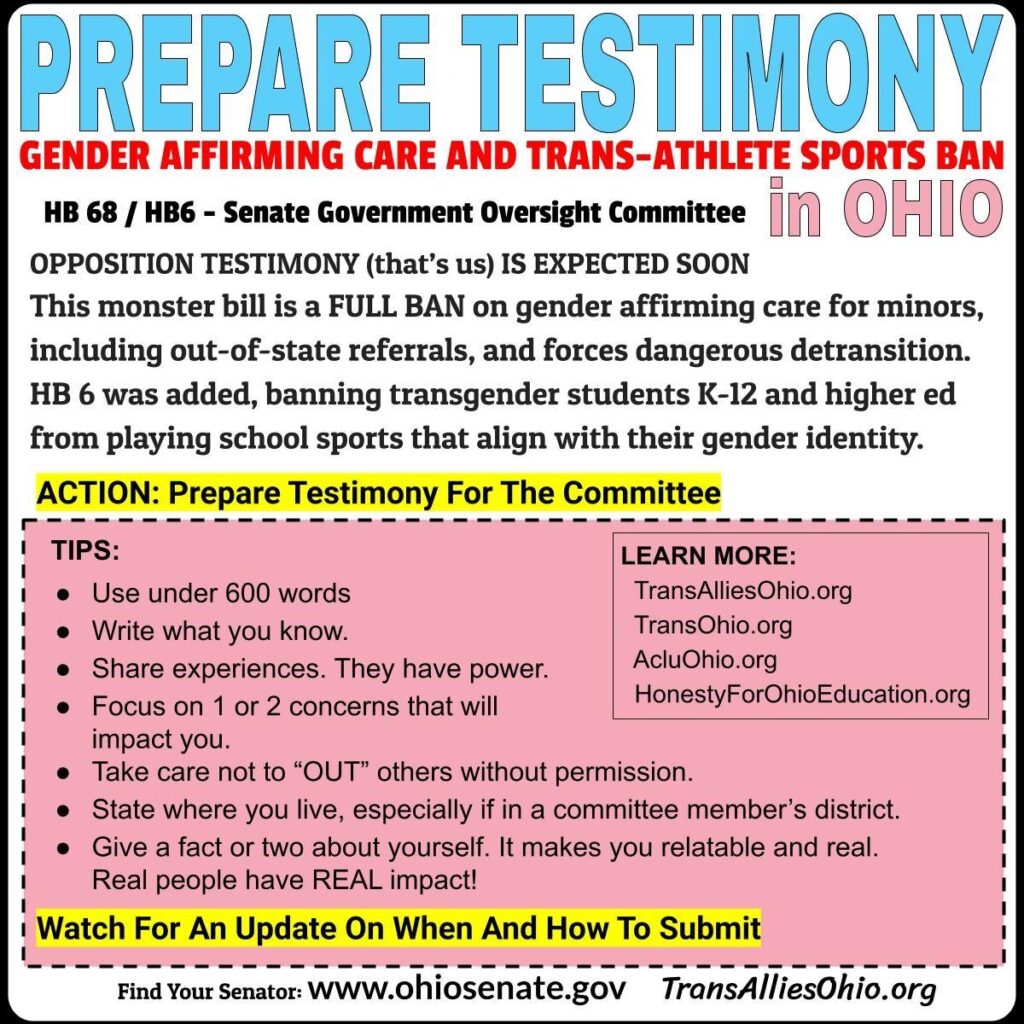 Trans Allies of Ohio is a sibling organization to TRANSOHIO, OHIO'S ONLY TRANS-LED, STATEWIDE ADVOCACY GROUP. TransOhio provides services, education, and support and advocates for the health, safety and life experience of Ohio's transgender individuals and communities.